News
November 2012
We at Wechsler Consulting proudly present our newest product:
Application SideLoader for Windows 8 and Windows Embedded Standard 8
Check it out! And tell us what you think!
Free yourself and your innovative LOB and embedded Windows 8 applications from the chains and deploy independently the way you want to.
Get Application SideLoader here!
Wechsler Consulting is Windows Embedded Silver Partner
Working in the embedded market for quite a few years, we are very proud to announce that Wechsler Consulting is a Windows Embedded Silver Partner now.

We are very happy to continue the sucessful partnership with Microsoft on this new level!
At the same time we want to say a big "Thank You!" to all our customers. Without your trust, very interesting projects as well as readiness to pursue innovation, this success would not have been possible.
Reference: car2go - the new mobility concept by Daimler
Alexander Wechsler supported the very successful car2go team during the development and design of the current head-unit-system as well as the architecture and construction of the system management infrastructure for the rental car fleet.

car2go is a revolutionary mobility concept that opens up completely new possibilities in urban mobility.
Simply get in and drive off.

The blue and white Smarts are already available in twelve cities around the world, while the number of locations keeps growing every month.
Reference: Dornbracht Ambiance Tuning Technique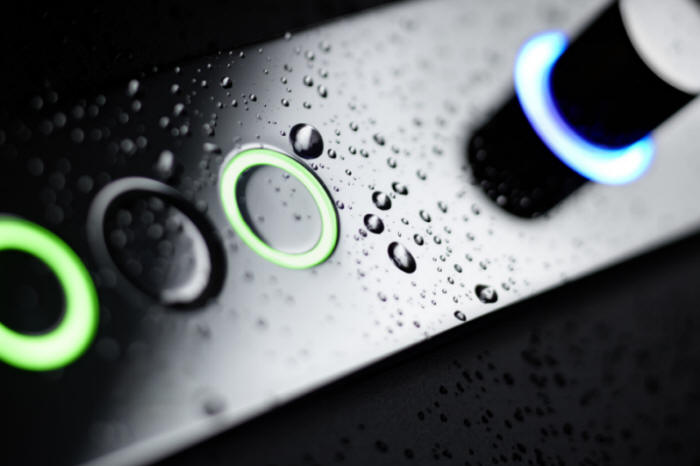 © 2012 Copyright Aloys F. Dornbracht GmbH & Co. KG
Breaking new ground!
With the creation of the Ambiance Tuning Technique, the family-owned company Dornbracht from Iserlohn sets a new trend in the bathroom. Controlling water flow, temperature, light and scent a unique showering experience is induced.

Alexander Wechsler supported the highly innovative Dornbracht engineering team developing the software architecture for the sophisticared system components.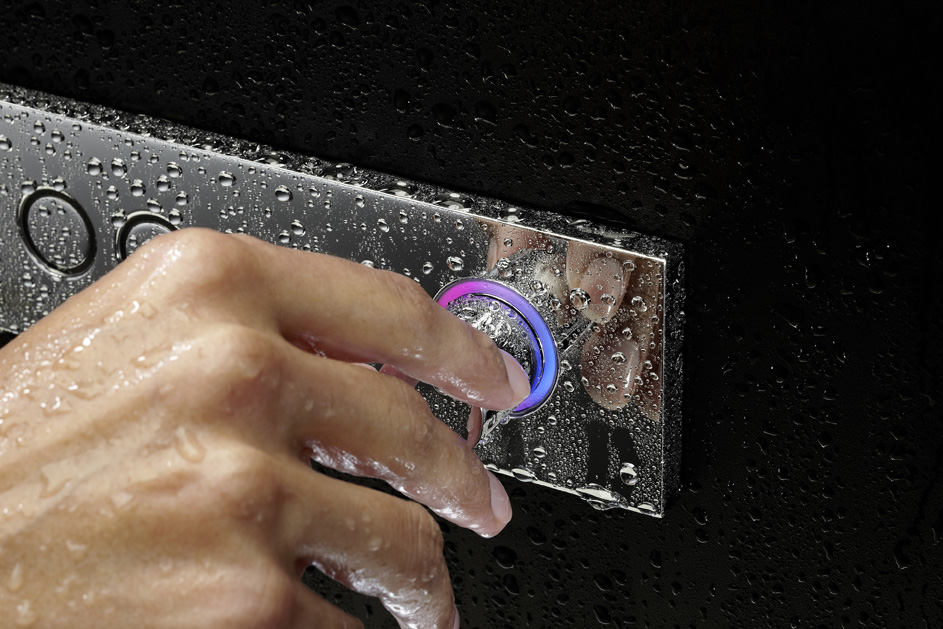 © 2012 Copyright Aloys F. Dornbracht GmbH & Co. KG
Given the modularity and connectivity of the new system, Dornbracht is able to develop their products in an evolutionary and flexible way to master future requirements.
Usage scenarios: http://www.dornbracht.com/en-US/Products/Bath-and-Spa/ATT.aspx
Technical animation: http://www.youtube.com/watch?v=zrpaoMpz_zQ&feature=player_embedded
Wechsler Consulting wins Windows Embedded Partner Excellence Award 2011!
Lisbon, Portugal October, 11th 2011

The Windows Embedded Excellence Award EMEA 2011 for Community Leadership was presented to Wechsler Consulting at the EMEA Windows Partner Summit 2011.

Award Description:
Most impactful engagement in the embedded developer community through evangelism, training, academics

Following 2008 in Monaco this is the second time Wechsler Consulting was able to win this well respected partner award.
We feel very honored and are quite excited about this!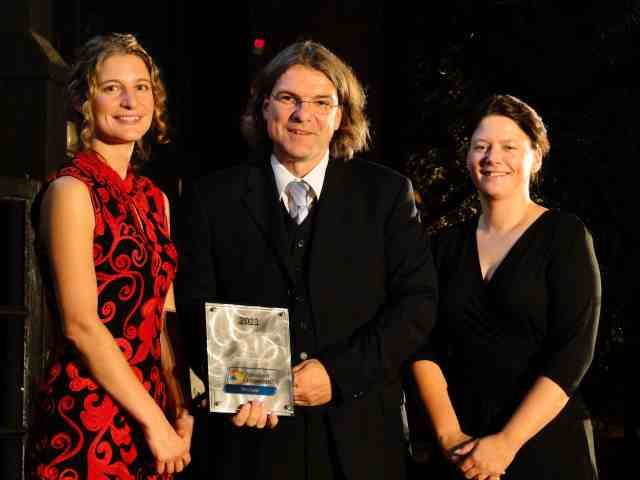 Alexander Wechsler received the trophy out of the hands of Barb Edson, Senior Director of Windows Embedded Marketing (right) and Lorraine Bardeen, Windows Embedded Business Lead EMEA during the awards dinner at Lisbon harbor.


Happy New Year to all or customers, partners and colleagues!
Wechsler Consulting wants to say Thank You for the great collaboration in a lot of successful project during the last months.
We are looking forward to work together with You on new and exciting challenges in 2011!
November 2009

TechED Europe 2009 in Berlin




TechED conferences are always something special.

For the first time since the start of the TechED Europe series 1995 in Hamburg, TechED takes place in Germany!
This comes just in time for the 20th anniversary of the fall of the Berlin wall and you will get the most recent information on Microsoft technologies by first-class speakers. Alexander Wechsler is very happy being able to contribute two breakout sessions to this outstanding event.


January 2009
Wechsler Consulting articles in the Windows Embedded Standard team blog
Alexander Wechsler was asked by the Microsoft colleagues to post articles on current topis to the team blog of the Windows Embedded Standard group.
October 2008
Windows Embedded Excellence Award 2008 Ceremony
Vista Palace Hotel, Monte Carlo (Monaco)
Pascal Martin, General Manger, OED Division
Ilya Bukshteyn, Senior Director, Windows Embedded Marketing
Alexander Wechsler, CEO, Wechsler Consulting GmbH & Co. KG
Nadine Haworth, Marketing Programs Manager – Northern Europe & Benelux (left to right)


Awards dinner in an outstanding venue

High above the Monte Carlo roofs, at the spectacular located Vista Palace Hotel, the Windows Embedded Excellence Award 2008 ceremony took place as part of the Microsoft EMEA Embedded Partner Summit.
In the "Registered Partner" category Alexander Wechsler accepted the highly valued award for Wechsler Consulting.
July 2008 (update)

Wechsler Consulting wins Windows Embedded Award of Excellence
Due to our successful work in the Windows Embedded market we have been recognized with the Embedded Excellence Award by Microsoft:
The Windows Embedded Partner Excellence Awards recognise visionary organizations around the world that use Windows Embedded technology in innovative and creative ways. Windows Embedded Partners were honoured for their outstanding customer service and the many innovative ways they are using the Microsoft Windows Embedded platforms.

"The Windows Embedded Partner Excellence Awards recognize the invaluable contribution partners make to our business through outstanding customer service and innovative uses of Windows Embedded technologies," said Ilya Bukshteyn, director of marketing for the Windows Embedded Business at Microsoft. "The accomplishments of our partner ecosystem play a key role in our success, and we are absolutely committed to helping our partners to continue to excel in their disciplines. I would like to extend my congratulations and thank each of the 2008 award winners for their commitment to excellence in customer service."
"We are delighted to award Wechsler Consulting GmbH & Co. KG with the 2008 Windows Embedded Excellence Award in the Registered Partner category which specifically recognizes the outstanding efforts of one partner in the registered space. This award reflects the great efforts made by Wechsler Consulting GmbH & Co. KG in the training space and in particular for the high quality training support provided at Microsoft® TechEd North America."
Manoj Rami, Senior Marketing Manager, Windows Embedded Business.

Official Note:
EMEA & Americas Windows Embedded Excellence Award Winners Announced

The Windows Embedded Team is delighted to recognize those partners that stretch beyond the day-to-day requirements of being a Windows Embedded Gold Partner. Standards were high this year but after much deliberation we are pleased to announce the winners of the EMEA and Americas Windows Embedded Excellence Awards:
| | |
| --- | --- |
| 2008 WE EMEA Excellence Award in the System Integrator category: | |
| 2008 WE EMEA Embedded Excellence Award in the Consumer category: | |
| 2008 WE EMEA Embedded Excellence Award in the IHV category: | |
| 2008 WE EMEA Embedded Excellence Award in the Training Partner category: | |
| 2008 WE EMEA Embedded Excellence Award in the Registered Partner category: | |
| 2008 WE Americas Excellence Award in the System Integrator category: | |
| 2008 WE Americas Embedded Excellence Award in the IHV category: | |
| 2008 WE Americas Embedded Excellence Award in the Training Partner category: | |
| 2008 WE Americas Embedded Excellence Award in the Silicon Vendor category: | |
| 2008 WE Americas Embedded Excellence Award in the Point of Service category: | |
We are very proud to be among the chosen few!
September 2007
Wechsler Consulting has moved!
To be able to offer our customers better service and more space during our courses and seminars, we are moving to a new location to Dießen at Lake Ammer. Being then amidst one of the prettiest geographical areas in Bavaria, we hope to make learning a very pleasant experience to our workshop participants. Our new offices can be found in an over 100 year old building, which has been a gardenery some time before. It is close to hotels and the infrastructure of the town center.
To relax after a day of intense lessons, the lake surounded by beer gardens and restaurants as well as the vivid cultural live of the artists' community in Dießen offer quite a few interesting possibilities.
Wechsler Consuling GmbH & Co. KG - Dießen at Lake Ammer
The train station (500 m) and the city center (200 m) are pretty close to our new location. Due to this travel is quite convenient. To arrive by car take the A96 motorway and then the exit "Greifenberg" and follow down the lakeshore road straight to Diessen.

Our offices can be reached via Tiefenbach- and Seerichterstrasse. Parking lots are available at the junction of the roads.
For more information on courses in Dießen and of course ongoing courses in the Seminarhaus Wechsler in Roth at Nuremberg , please visit and follow the announcements on our events page.

Our new contact data, effective on September 1st, 2007 are:
Wechsler Consulting GmbH & Co. KG
Seerichterstrasse 33
86911 Dießen am Ammersee
Tel: +49 8807 / 946 3160
Fax: +49 8807 / 946 3161
Email addresses, mobile phone numbers as well as our internet address stay unchanged.
Learn and work, where people go for holiday.
We are looking forward to welcome You!
February 2007
.NET MicroFramework Starter Workshop

Small is beautiful!
The .NET Micro Framework brings a rich, managed-code environment to smaller, less expensive, and more resource-constrained devices. Requiring only a few hundred kilobytes of RAM and an inexpensive processor, the .NET Micro Framework was built from the ground up to let you build applications using familiar Visual Studio development tools.
For more information see the agenda of our Starter Workshop.
HORM Manager Pro Admin Pack - now available
Are you tired of walking to you XP embedded device for creating an HMPro script?
Well, then the HMPro Admin Pack comes in handy. It enables you to create HMPro scripts on the fly for later use on the embedded devices, just like working with the real HMPro version. Additionally you can even set a virtual the EWF or HORM state to cover all required maintenance scenarios. The HMPro Admin Pack for XPe SP2 and FP2007 is now available for download.
HORM Manager updates for XP embedded FP 2007
Due to an issue with FP2007 EWF RAM(Reg) mode we configured our HORM Manager components not to include the EWF registry settings for RAM(Reg) mode to avoid collisions, because these are set by FBA in FP 2007 now automatically.
Under certain rare circumstances collisions between the similar settings lead to a state where it was not possible to turn off EWF.
We will keep offering the XPe SP2 versions for backward compatibility and only the components using EWF RAM(Reg) mode are affected by the changes.
The updated components can be found on our Downloads page.
Volume license customers are requested to contact HORM Manager Pro support to acquire their new components.
---
September 2006
Windows VISTA Events
Windows Vista Inside - events 17./18.10.06 in Nuremberg and Munich
With our partners from Microsoft, NIK and Tria we introduces the new Windows Vista operating system to our customers. Over 300 attendees showed a hughe interest into the new features and business opportunities that have been introduced.
---
July 2006
HORM Manager Pro for XP embedded

SP2 - released!



HORM Manager
Pro is the tool to control EWF and Hibernate Once Resume Many (HORM) fast and easily.
Get your copy of the eval version and test it today!
You will be stunned by the new possibilities.

Top 10 Benefits include:
Boot XPe systems fast and reliable - regardless of shutdown method (under 10 seconds are possible!)
Get virus protection on your system partition without having to worry about the complexity
Control EWF and HORM and get their status at a glance via tray icon
Transparent handling of protected and unprotected partitions for HORM - avoiding synchronization problems
Starting and stopping of applications or services (very useful before and after mounting/unmounting partitions)
Reconnection of network drives after waking up from hibernation (passwords are encrypted)
Easy to use command editor - a rule engine that checks the logic of each command script. You cannot generate scripts that will not work! An execution plan shows offline what will happen on the devices in the filed (number of reboots etc.) - great for planning!
Easy integration into change management systems via scriptability - create different command files for different change management purposes
Command editor can be used on administrators computer to generate scripts for field devices
Quick Commands for lightning-fast field operation
and these are just the most prominent ones!

Get full insight at the HORM Manager Pro product page and documentation or start downloading a 30 day evaluation version immediatly.
---
June 2006
HORM Manager Pro
for XP embedded - available soon!
Hibernate Once Resume Many (HORM) together with write protection of the Enhanced Write Filter (EWF) is not always an easy going thing under XP embedded.
This seems odd, because the fast boot time as well as the protection of e.g. the OS partition are able to yield an enormous benefit for embedded systems. Devices relying on these functionalities excel all other devices with respect to reliability and robustness. They are unsusceptable against viruses or operator errors and can be brought up to full operation, depending on the configuration, in under seconds after a power failure.
With HORM Manager Pro Wechsler Consulting has developed a tool that enables easy system development as well as smooth handling of EWF and HORM under rough field conditions. Complete device groups can now be handled consistently regarding the write filter and the boot mode configuration leveraging HMPro.

Create HMPro command files on Your desktop and deploy them via SMS Server or Device Update Agent onto the field devices. One can also maintain several different command Files for recurring tasks on each device.
HMPro can as well flexibly be used in maintenance scripts or applications via command line and without user interface leveraging its logging capabilities to check results.
Even more interesting for OEM's: HMPro can be customized to fit into the corporate identity using a logo and caption string.
Expected release date: July 2006!
Nice, June 6-8

Want to get a first look at the future of Windows Mobile and Windows Embedded technologies? Then attend MEDC. With over 80 technical sessions and Hands-On-Labs it will deliver the most comprehensive training available for Windows Mobile 5.0, and the latest versions of Windows CE, Windows XP Embedded and Windows Embedded.

Ever been to the mediteranean sea in spring? Nice alone is worth the trip!
We would like to invite everybody who will make it to Alexander Wechsler's presentation: HORM - Boot XP embedded in under 10 seconds!"
It would be great to see You there!
---
MEDC 2006
May 8-11
The Venetian, Las Vegas

Attend Mobile & Embedded DevCon 2006 and get the latest on building and bringing to market the next wave of devices, applications, content, and services for the Windows Mobile® and Windows Embedded platforms.

We are looking forward to meet You there!
---
April 2006

We are proud to announce that Alexander Wechsler has been confirmed as one of the five Microsoft Regional Directors for Germany.

Regional Directors aren't Microsoft employees--they're independent developers, architects, trainers, and other professionals who provide a vital link between Microsoft and the developer community. Read more at...


---
February 2006 - Introducing HORM Manager Lite (Freeware) at the Embedded World (Nuremberg)
Making life a easier for the XP embedded developer!
HORM Manager Lite (HML)

is a graphical user interface for the EWF and HORM APIs provided by Microsoft. It also enables the user to mount an dismount volumes, which are not protected by the EWF. Doing this the is no danger of arising inconsistencies between the one time recorded hibernation file and the systems view on the unprotected volumes.
<![if !vml]>
<![endif]>
Why wait? Request Your free version today at: hmlite@wechsler-consulting.de
---
Visual Studio 2005 Launch - Karlsruhe 8.-10.02.2006


Embedded "Birds of a Feather Session"
together
Frank Prengel
- Embedded Developer Evangelist Microsoft.
90 mibutes of fun embedded talk at the largest Microsoft developer event in Germany,ever! More....
---
April 2005
Wechsler Consulting GmbH & CO. KG becomes official Microsoft Windows Embedded training center.
01/31/2005
On January, 31st 2005, Bill Gates Chairman and Chief Software architect of Microsoft Corporation inaugurated the eHome technology for the "Home of Today", a showcase for modern living on the area of the 2005 National Garden Festival in Munich, Germany.
Microsoft has been the exclusive development partner for the eHome installation since 2003 and has realized state of the art home control, communications and entertainment. With the help of partners Microsoft built a connected home that does not emphasize on technology, but on the daily needs of the inhabitants.
Microsoft asked Wechsler Consulting to lead this project, due to our experience in the Microsoft embedded and .NET technologies.
The infrastructure for the "Home of Today" was established with the help of strong and innovative partners such as Beckhoff (home automation), Tobit (messaging and entertainment), 3Soft (User Interface), Scemtec Automation GmbH (RFID localisation) and TridonicAtco (light control).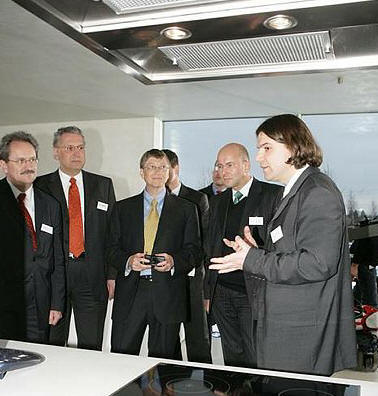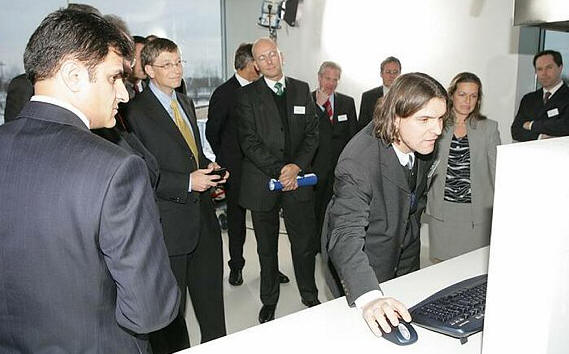 Alexander Wechsler presenting the "Home of Today" eHome system to Bill Gates and his guests.
Windows XP Media Center Edition (MCE) is the main user interface to the house. All functionality available can be controlled via remote control from the living room, increasing quality of life, comfort and security of the inhabitants. In contrast to many future homes, "Home of Today" leverages not the newest and fanciest prototypes out of the industry's laboratories but standard components, readily available in the market.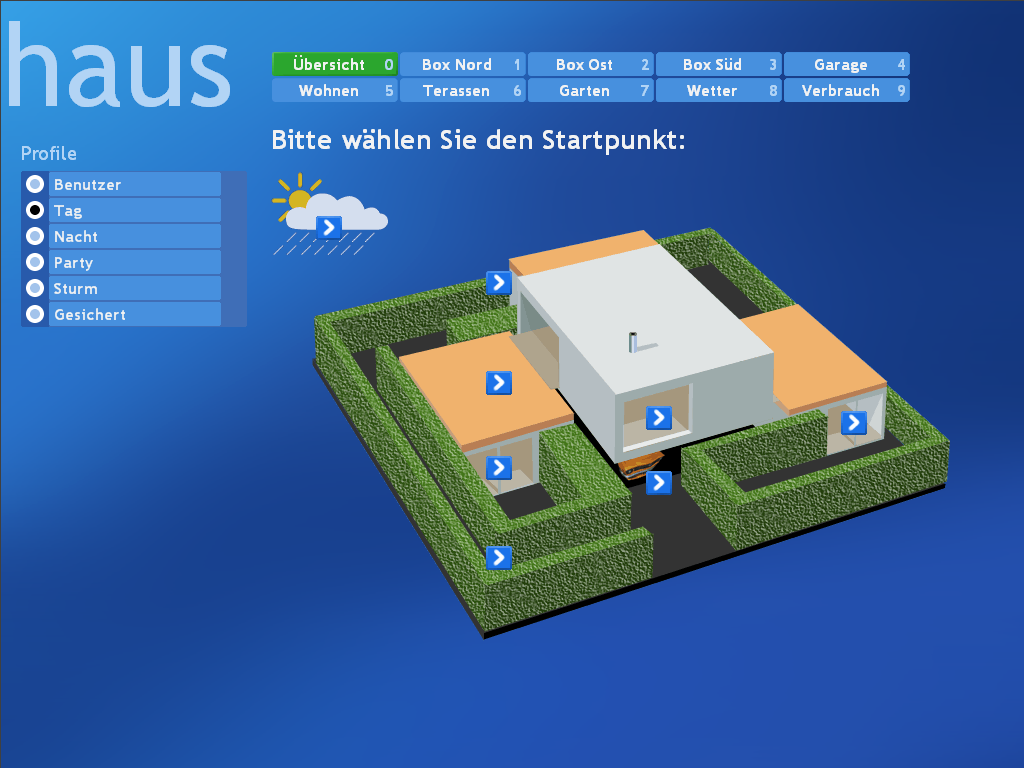 Home of Today - User Interface
Especially the integration of the user interface into Windows Media Center makes controlling the home very easy. All activities in the house are centrally under remote control from the sofa, in a quite convenient way.
But also desktop-PC, Tablet PC, Laptop, Pockte PC or even SmartPhone give access to the home, even if the inhabitants are on the road.
The most important things can be controlled via a simple telephone menu, as well. After getting the status, the user is able to switch lights, to open doors and blinds as well as to water the garden.
---
01/01/2005
Dear customers and partners,
with the beginning of 2005 Wechsler Consulting has changed into a GmbH & Co. KG.
We are looking forward to continue the very successful work with You!
Alexander Wechsler
CEO
Wechsler Consulting GmbH & Co.KG